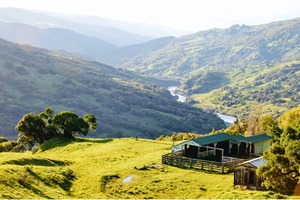 Image from the historic Dean Witter Lone Pine Ranch
In August, the Rose Foundation received $3 million from a settlement between the Center for Biological Diversity and Placer Ranch Inc., a real estate company. The settlement funds will be used to make Placer County more sustainable, including grants to support habitat conservation, incentives for local residents to purchase electric vehicles and solar panels, and to reduce greenhouse gas emissions from a large development project in western Placer County. As part of the agreement, $1 million was specifically endowed to The Wildlands Conservancy (TWC) to complete a major land acquisition project. TWC will use the funds to conserve, protect, and restore the historic Dean Witter Lone Pine Ranch, a 29,600-acre property that includes over 18 miles of the "Grand Canyon" of the Eel River – a National Wild and Scenic River that sustains the third largest watershed in California. Read on to learn how this historic grant will be used to preserve and protect land, wildlife, and indigenous culture in the Eel River watershed.
Ninety percent of the land along the Eel River is in unprotected, private ownership. Protecting these vulnerable lands will help protect the river and the hundreds of species that rely on its clean water and the habitat it sustains to survive. California has lost more than 147 million trees since 2010 due to prolonged drought, pests, and wildfires. Protecting remaining forests is essential for sequestering carbon dioxide and reducing the impact of climate change on the planet. It is estimated that Lone Pine Ranch contains 100 million board feet of fir, pine and oaks, equating to over 29,200,000 pounds of sequestered carbon. The property is also home to fantastic geology, anadromous fish habitat, a herd of Roosevelt elk, and significant water resources and wetlands. 
The Rose Foundation funds will be used for land purchase, and associated ecological restoration, public facilities restoration, and property cleanup, and enabled TWC to meet a purchase option deadline to go open escrow for this complicated, high-impact conservation purchase, and leverage $25 million in additional funds! After acquiring the Lone Pine Ranch, TWC will develop a Preserve Management Plan that involves biological resources, visitation strategies, and climate change. A range of adaptive strategies to create climate resilience and long-term conservation value for the landscape will be developed as part of the management plan. TWC will also partner with several tribes in the Round Valley Region to provide access to cultural sites, opportunities for traditional practices including gathering plants, and access for interpretive activities.
The outcomes from this project include 1) Permanently protecting and stewarding the Lone Pine Ranch, 2) Opening the new nature preserve to free public recreational access via permissive entry, 3) Enabling future restoration, and 4) Enhancing wildlife connectivity. The Rose Foundation is proud to support The Wildlands Conservancy in this impressive endeavor to restore and protect the historic wildlands of the Dean Witter Lone Pine Ranch.
---