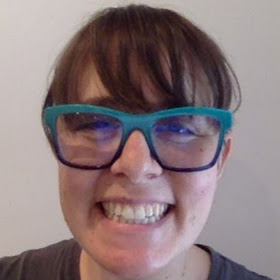 Each month, we feature a member of the Rose Foundation community. We hope that through these interviews, you get to know a little more about the dynamic people who make the Rose Foundation's work possible. You are a part of the Rose Foundation community, and we want to tell your story too! If you want to be featured in an upcoming newsletter, let us know by replying to this email.
This month, we're featuring Anna Gomberg, a Crowdfunder for our New Voices Are Rising "Crowdfund" fundraising appeal. Anna is a teacher at Skyline High School in Oakland, where she teaches about sustainable systems and renewable energy.
1. What brought you to New Voices Are Rising?
I have taught at Skyline High School for the past 7 years and have worked with a few students who participated in the New Voices Are Rising Summer Academy. I help students complete their Graduate Capstone Projects and have seen some of the best and most meaningful projects from these students. It's so clear that this summer program is transformational and really gives youth of color the voice and confidence to speak out about issues of environmental injustice. One summer, I helped supervise these internships and got to visit the program to see how the students from Skyline were doing. One of my former students, Mykela Patton, was co-facilitating that day! The atmosphere there was just so inviting, inclusive, and fun, even while talking about difficult issues like gentrification.
2. What inspires you about New Voices Are Rising?
It is so important that high school students understand the importance of policy and long-term political activism. I didn't have any understanding of this when I was a student. The youth who work with New Voices are all well-versed in the language of environmental justice. They understand that these inequalities are not accidental, but are the result of centuries of oppressive policies like redlining. They understand that protesting is important, but it's not where the fight ends. They understand the importance of movements and sustained action.
3. Why is it important to support youth leaders in the movement for climate justice?
It's essential. We need them. We've seen so clearly how powerful this generation is in speaking up for justice, and we need to make sure that all voices are heard. The perspectives that frontline youth can give when discussing climate and environmental justice are such a vital part of the conversation; they know first-hand what it is like to grow up in an area with high asthma rates from air pollution and the impacts of not having easy access to affordable, healthy food. They know how much hotter it gets in their urban neighborhoods with fewer trees and green spaces, and how few people have energy-efficient homes, classrooms, and workplaces with good temperature control. They also, unfortunately, may have experienced multiple classes at school with substitute teachers teaching from outdated textbooks rather than helping them understand and analyze their local environment. Developing their voices, so that they can take equal footing with youth leaders from other more affluent communities, is so incredibly important.
4. What are you up to when you are not supporting youth leaders with New Voices Are Rising?
Mainly, I am a teacher which used to take up all my time. Now, I am also a parent, so that takes up any other time I might have had before! So, I guess, wiping food off things and delighting in watching a little human learn to do things like blow kisses. On a good day, I fit in a 20 minute yoga video and 10 minutes of reading before I fall asleep.
5. Where is your favorite place in nature? Why is it special to you?
That's a hard question! Growing up in the UK, I wasn't very into nature. Now, I love it. A place that is really special to me is Rodeo Cove in the Marin Headlands. I have taken students to Point Bonita YMCA every year I've taught at Skyline (until the pandemic), and it has been such an amazing group bonding experience! I have so many memories of hanging out with students at Tyler's Beach there, watching waves, collecting and measuring sand crabs, and celebrating dolphin sightings.
Thank you, Anna, for bringing environmental education to life with your students and supporting youth leaders with New Voices Are Rising!
Anna is one of our Crowdfunders for the New Voices' "Crowdfund" fundraising campaign. There is just ONE WEEK LEFT in our Crowdfund. Join Anna and our team of Crowdfunders in raising $25,000 for this year's Summer Academy — donate today!