In December of 2011, a landmark Clean Water Act settlement won by Puget Soundkeeper Alliance held the BNSF Railway Company accountable for its discharge of polluted stormwater draining into the Puget Watershed (read the full press release here). This pollution likely contained toxic contaminants, including copper, zinc, lead, oils, and suspended solids draining into Elliott Bay, within Puget Sound. The Sound and its watershed provide critical habitat for many species, including Chinook and coho salmon, harbor porpoise and seals, and orca whales. With this $1.5 million settlement, Puget Soundkeeper and the Rose Foundation created the Puget Sound Stewardship and Mitigation Fund to support projects that mitigate past pollution runoff by supporting community-based efforts to protect or improve the water quality of the Sound. The fund supports a range of projects focused on conservation, restoration, community science, environmental justice, shoreline access, and environmental education.
Combined with our existing Mike Chappell Fund for the Spokane River, the partnership with Soundkeeper to launch the Puget Sound Stewardship & Mitigation Fund helped catalyze several other Rose Foundation funds in the Pacific Northwest, including the Grays Harbor/Chehalis River Watershed Fund, the Columbia River Fund, and the Puget Sound Salish Sea Watershed Fund. Through these funds over the last decade, we have awarded over $7 million to protect watersheds and communities in Washington and Oregon.
This past fall, Executive Director Tim Little, Program Officer Laura Fernandez, and Pacific Northwest Grants Manager Kevin Hendrick visited Seattle-area grantees from the Puget Sound Stewardship and Mitigation Fund. Meeting watershed activists in person and seeing their projects first-hand is essential in building deeper relationships with our grantees and helping us to understand the impact of their work. As Laura shared,
"It's always a pleasure to make personal connections with projects we are funding, because it bridges what we read about in an application to the actual work happening on the ground."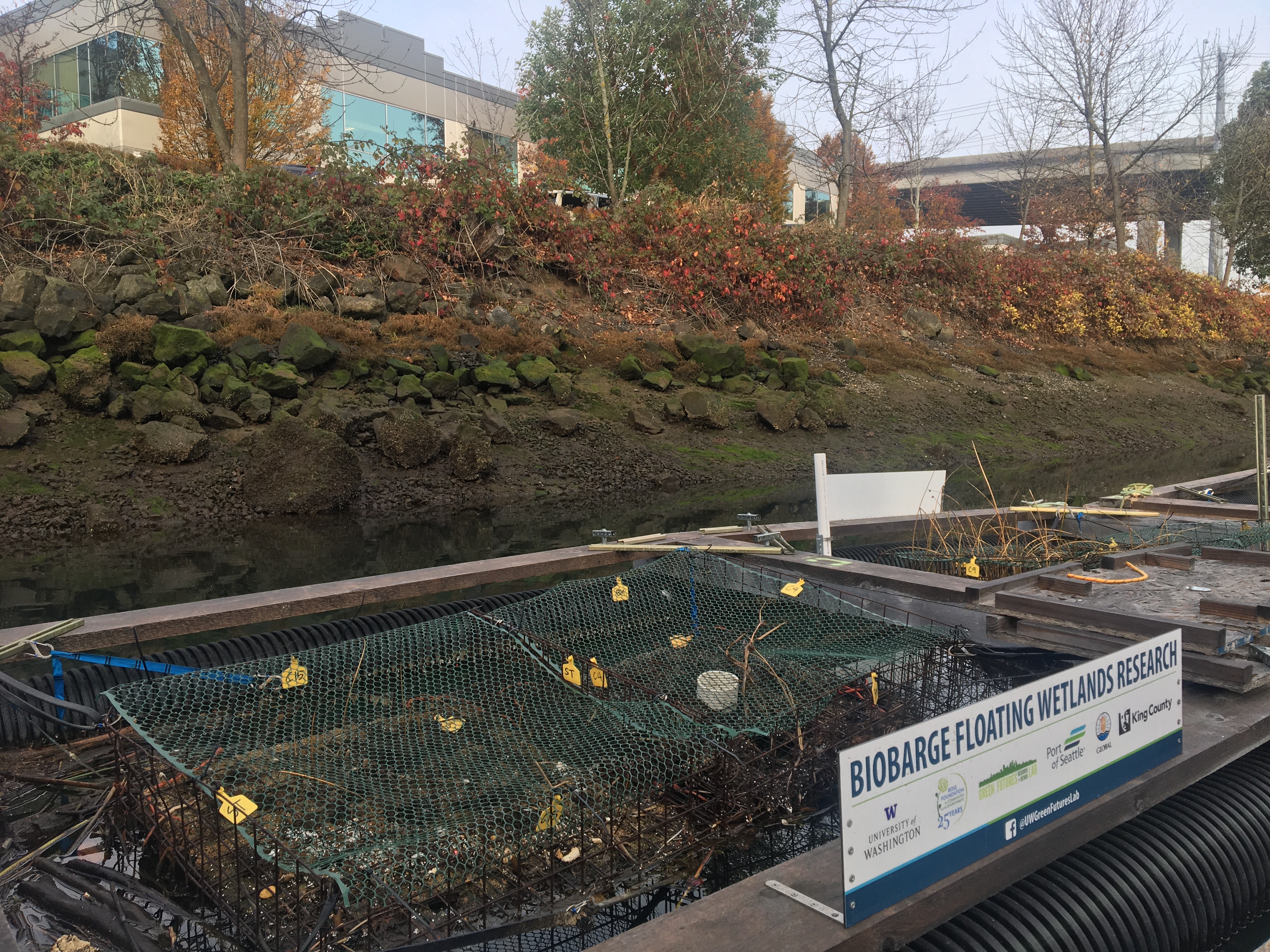 On their first stop, they visited Green Futures Labs' Floating Wetlands (pictured right). These bio barges are made entirely of plant materials and are placed in tidal estuaries that are degraded by industrial pollution and urban runoff. The habitat structures improve water quality, provide places for fish to hide, and improve biodiversity. They are an affordable solution to the challenges the watershed faces, as they do not require any special permits. And they are mobile, making them easy to move around seasonally in order to maximize their benefits. And because they are floating structures, bio-barges are climate-resilient, rising with sea level changes. But Green Futures Labs is not just about the technology; they are committed to "community science," working with local residents, children, and local university students to monitor, observe, and document the impacts of these barges. One of the researchers, Leann Andrews, explains,
"Science is a driver of change, but so is love. Community science helps develop that love, connecting people with their watershed."
Next, Tim, Laura, and Kevin headed over to the Delridge Neighborhoods Development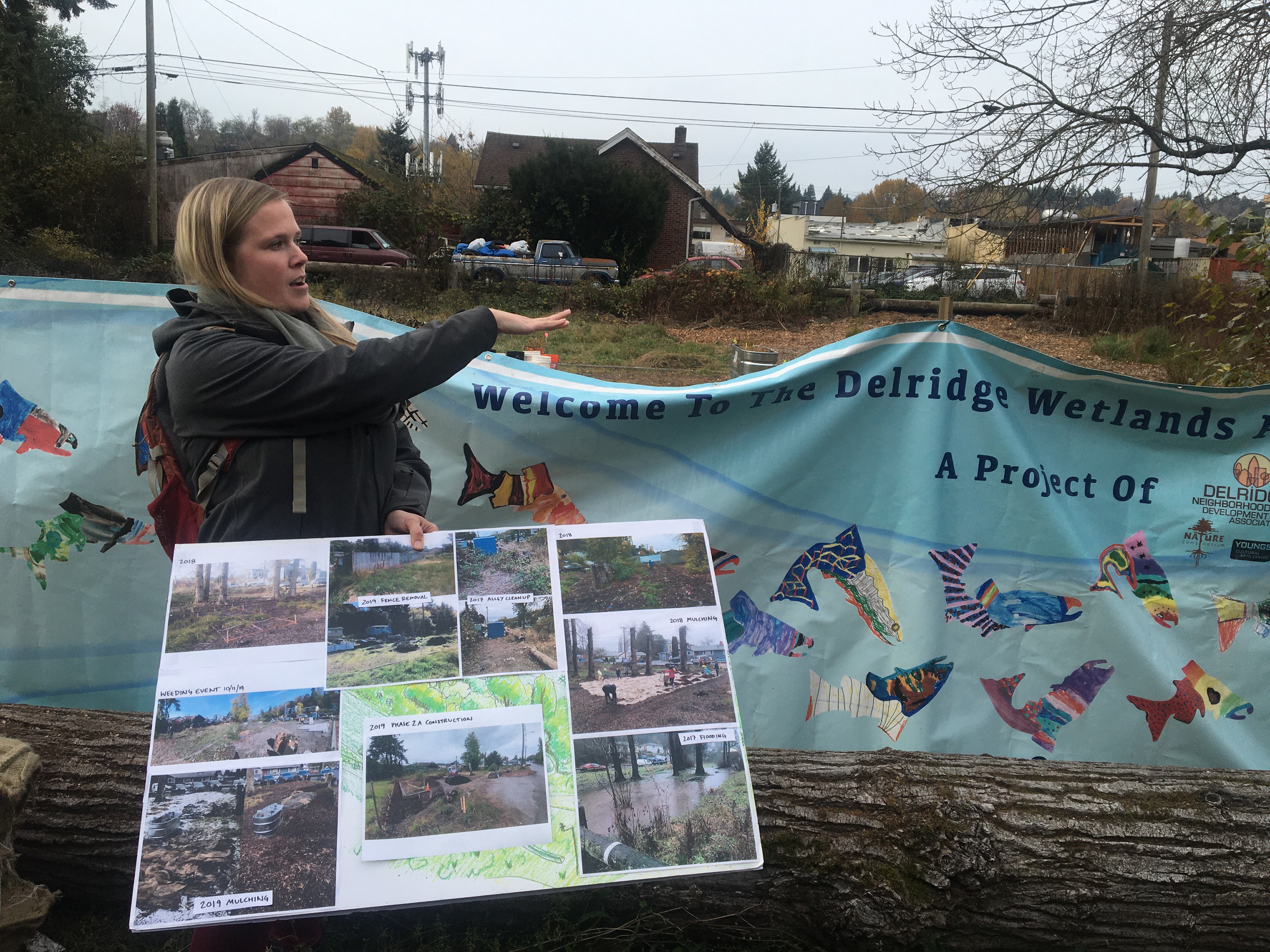 Association to learn about their Delridge Wetland and Stewardship Project (pictured left) restoring an acre of marshland to prevent flooding, improve drainage and water quality, and connect the community with this outdoor classroom! With the help of the local community, the group has planted over 2,000 plants and replenished native plants from deep in the soil. They have already seen the benefits of the marshland—over the last few years, they have experienced a dramatic reduction in flooding!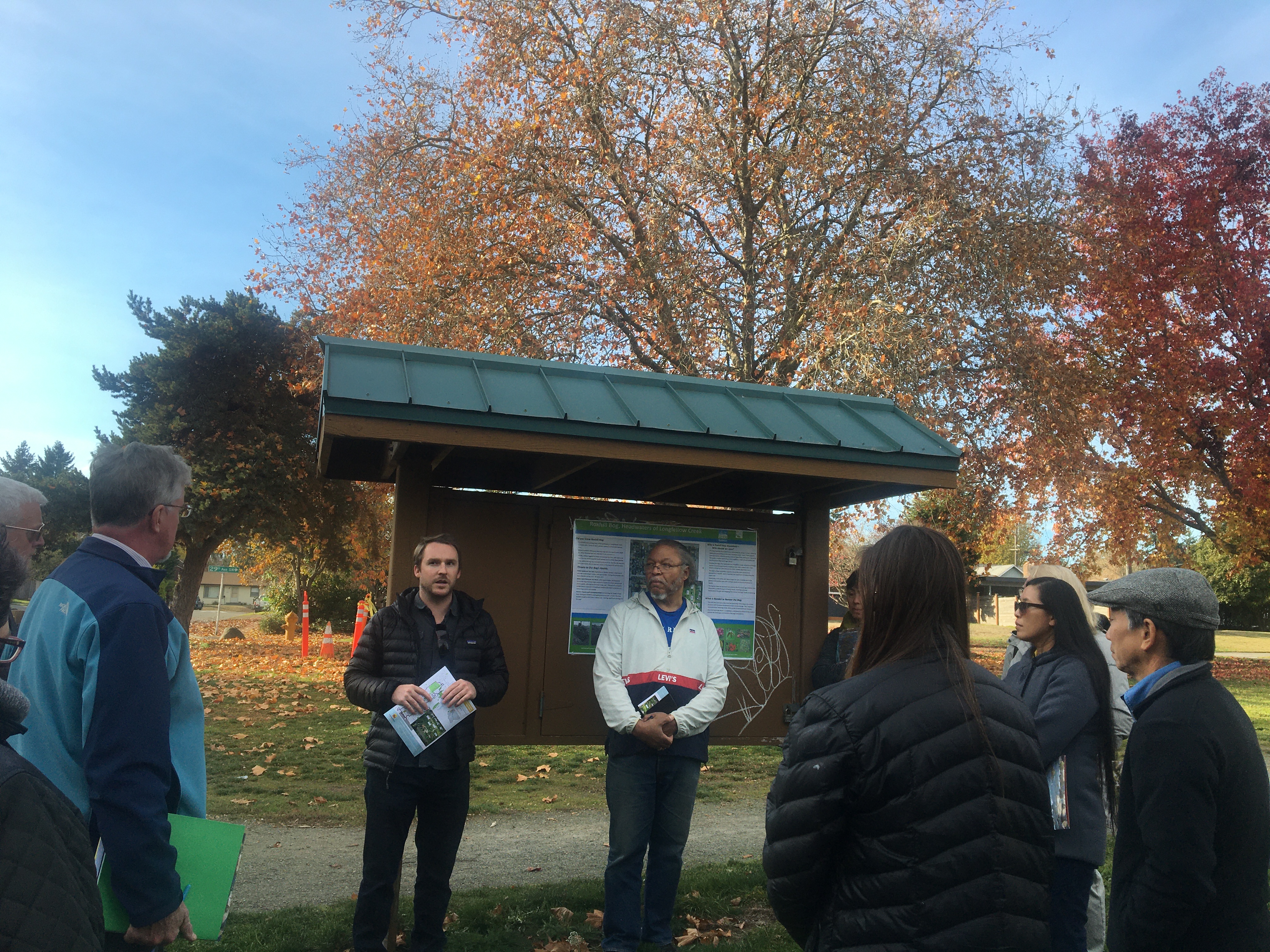 Afterward, they met with the Duwamish River Cleanup Coalition and American Rivers at the Roxhill Bog (pictured right). This bog was once developed as a park, but it is now drying out as the water table lowers, leading to the collapse of sections of the park. Simultaneously, gentrification is expanding across Seattle, along with skyrocketing housing costs and an increasing homeless population looking for places to stay. Some have camped out on this bog and built campfires that, unfortunately, have led to severe fires, as the peat in the bog is highly flammable. American Rivers' research into why the water table is lowering suggests that increased development in the area is diverting water, which used to flow into the bog where it naturally filters and recharges groundwater, directly into Puget Sound as polluted stormwater. With our support, American Rivers is now creating a plan with the local community to address these challenges.
Finally, Laura, Kevin, and Tim hosted a roundtable discussion on the impact of homelessness on public lands and waters in the Seattle Area. They were joined by folks from American Rivers, Duamish Alive! Coalition, Delridge Neighborhoods Development Association, All Home for King County, and the Puget Sound Advisory Funding Advisory Board. Participants shared their experiences and perspectives on the ways that homelessness, gentrification, and environmental conservation intersect in their respective work. While the topic is very complex by nature and will take a lot of collaboration to fully address, for many, the conversation was truly eye-opening. This roundtable was just the start! Tim, Laura, and Kevin look forward to supporting future projects addressing the intersections of conservation and homelessness, housing justice, gentrification in Puget Sound communities.
We loved visiting our Puget Sound grantees and are looking forward to more visits in the near future! Follow our grantee site visits on Rose's social media using the hashtags #GranteeSpotlight and #FridaysFromTheField. Visit our grantees with us by following us on Facebook and Twitter! And learn more about our Puget Sound Stewardship and Mitigation Fund on our website.