Yesterday, New Voices Are Rising Intern Coordinator Mykela Patton led a march and rally to protest ongoing maneuvers to bring dirty coal into Oakland. In January, US District Judge Vince Chhabria ruled that developer Phil Tagami's lawsuit challenging Oakland's ban on shipping coal within the city will receive a trial. Tagami is attempting to overturn the Oakland City Council's 2014 unanimous adoption of a measure to ban coal shipments within the city. This ban was in response to Tagami's plans to bring coal trains from Utah to the Port of Oakland. Mykela wrote an op-ed piece on the topic with New Voices students Jada Delaney and Rosesanie Phan, published on the East Bay Express' website. The piece's title, "The Youth Shall Inherit the Coal", strikes to the heart of the lawsuit: today's young generation will bear the brunt of the pollution and global warming caused by coal and fossil fuel use.
Mykela found partnership in the No Coal in Oakland! campaign as well as in youth who wanted to voice their opposition towards Tagami's attempts to threaten Oakland air quality. If Tagami wins his case, "pollution will skyrocket…we're not crazy, we're just trying to breathe out here," said Isaac Garcia, an Oakland high school student who spoke at the rally. West Oakland residents suffer from disproportionately high rates of asthma due to poor air quality. Shipping coal through the Oakland Bulk and Oversized terminal would add harmful coal dust to the air while increasing Oakland's carbon footprint. As the rally circled the Tagami-owned Rotunda building, Oakland Mayor Libby Schaaf joined the group to assure the rally attendees that the City of Oakland remains committed to winning the case and protecting Oakland residents' right to clean air. The rally gave youth an opportunity to meet a local decision-maker and speak up for their community.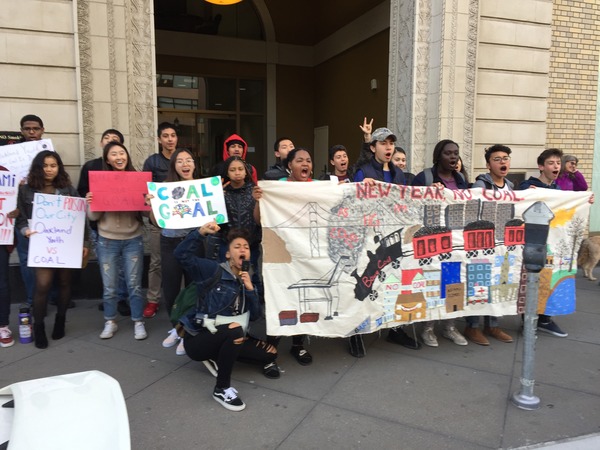 The youth protestors gathered outside the Tagami-owned Rotunda building to chant calls for clean air.
"It's reassuring to know that youth want to be part of change in their community," said Mykela. She first came to New Voices' summer program in 2016 and is now excited to take on new responsibility leading other students. Mykela thrived in the role of Peer Leader in the New Voices' 2017 Summer Academy, and now she's advancing her leadership even more by organizing community events herself. Mykela shared, "If this is anything like what my job will be like after college, I am excited to graduate." Mykela is currently on winter break from her freshman year at Colby College, where she's assessing which major will best springboard her into a career as an environmental justice activist. We were happy to step out of our office to join Mykela and other youth in their movement for a healthy Oakland.