Written by Communications Intern Sage Bachman
As California enters another severe drought, residents are once again being asked to use water more judiciously so as to make it last longer. While it is indeed crucial for all of us to reduce our water usage, is also critical to investigate how California's limited sources of water could be better protected. In a time when every drop counts, many California Watershed Protection Fund grantees are asking the question: Why are we polluting our limited water supply?
Find out how three of these groups are fighting to protect the health of our scarce water supply from pollution.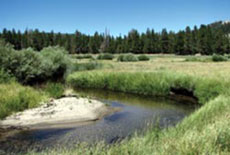 Northern California's Napa and Sonoma counties are famous worldwide for their wines. But there's a dirty underbelly to the wine industry – toxic pesticides used in the viticulture. The Russian River, famous in its own right as a local treasure and tourist haven, weaves between the vineyards. But the picture-postcard views don't show the steady runoff of pesticides from the grapes and other crops. Californians for Alternatives to Toxics (CAT) is working to reduce local agricultural pesticide use and its impacts on water quality in the Russian River watershed. By producing, publicizing, and disseminating a report on the use and potential impacts of pesticides, CAT says it hopes to move toward "better stewardship of, and a much healthier water quality for the Russian River." Local activists will use this report to advocate for riparian buffer zones, reduced and less toxic pesticides, and other improvements for the region's primary source of potable water.
South of the wine country, in the waters and wetlands of the Bay Area, Clean Water Fund is tackling the impacts of PFAS pollution. PFAS, often referred to as forever chemicals, are a family of chemicals that never break down and are known to cause cancer and other human health impacts. PFAS creeps into this watershed from countless sources, including wastewater and food packaging. A generation ago, no one understood the pervasive harm that these chemicals inflict of people and planet. But now we do – and that means we need to make some changes. Our grant is helping Clean Water Fund advance the study of PFAS and its impacts on water quality, wildlife, and humans, and work with local decision-makers to advance policy that protects the Bay Area's waterways from the forever chemicals.
Learn more about the health impacts of PFAS from the Clean Water Fund:
Ormond Beach and its wetlands sit on the southern coast of California in the city of Oxnard. This sister city to picturesque Ventura is home to a predominantly immigrant community. Over 85% of Oxnard residents are people of color, and the average individual income in Oxnard is less than $24,000. Oxnard is also home to manufacturing and other commercial activity, including Diversified Panels Systems, a producer of industrial-scale refrigeration and freezer systems which discharges plastics and toxic metals that compromise the area's water quality and destroy critical wildlife habitat. The Ecological Rights Foundation represents community members in cases focused on protecting California waterways from pollution. In its work, the group has determined that Diversified Panels Systems does not have a Clean Water Act permit; this makes the company's the pollution illegal under federal law. EcoRights is filing a Clean Water Act lawsuit to ensure the company adopts pollution control measures. By eliminating plastic pollution from the facility, EcoRights aims to protect the Ormand community's right to a clean, safe, and healthy environment.
These grantees and their work demonstrate the importance of a holistic approach to protecting our water during times of drought. As we see more severe and more frequent droughts, Californians must interrogate the ways in which we — as individuals, communities, and industries — preserve and care for our precious watersheds. The California Watershed Protection Fund supports grantees working to improve water quality through legal advocacy, research, watershed monitoring, riparian restoration, environmental youth education, community science, and fire-recovery efforts. In our most recent grantmaking cycle, the Fund awarded over $322,000 to 15 organizations across the state that are making every drop count. Learn more about the Fund.