Written by Program Officer Aurora Heying
Notable treasures of the California desert and Sierra Foothills have come under threat this year from proposed new mining operations, and Rose Foundation grantees are stepping up to save them. Mining threatens the health and safety of our communities and local ecosystems. The process of extracting minerals and metals is water-intensive, leaches toxic chemicals into waterways and the local environment, and pollutes drinking water. The extensive construction involved in mining operations also destroys habitats. And as we head into a severe drought year, funneling our precious water to mining projects that also pollute our watersheds, is the last thing we need!
Just two miles from the boundary of Death Valley National Park lies the 22,500 acres of rugged, roadless wilderness of Conglomerate Mesa. Home to a thriving population of Joshua Trees and other sensitive and rare desert plants, the Mesa has important ecological value and a long history of cultural significance for the local Paiute and Shoshone tribes who, to this day, use the area for their annual pinyon nut harvest. This spring, when Friends of the Inyo learned of an exploratory proposal for gold mining in the Mesa that would destroy this important place and its critical habitat, they jumped to its defense. They launched an extensive public education campaign to build community opposition to the mine, including developing an economic analysis of its potential effects on local communities and targeted outreach to potential investors and current shareholders of the mining company.
Not far away, Walker Basin Conservancy (WBC) is fighting off another exploratory gold mining proposal in the Bodie Hills, a 350,000-acre treasure of public land just north of Mono Lake. Gold mining has a long history in the Bodie Hills and pollution from historic mines continues to threaten the lands and waters of the area to this day. WBC is working hard to not allow the mistakes of the past to be repeated. The group is building relationships with key state and federal agencies and private landowners to create a habitat recovery plan and fend off new mining threats to protect the region.
We are seeing community and watershed advocacy groups joining together to prevent the new mining operations in Grass Valley too. Community Environmental Advocates Foundation (CEA) and Wolf Creek Community Alliance (WCCA), are standing up to stop the reopening of the Idaho-Maryland gold mine. If reactivated, the mine would destroy local forestland and critical wildlife habitat, and threaten local water quality and riparian areas. The groups' dogged efforts stopped the mine from reopening twice before, and they aren't holding back this time. Through a robust public outreach and education campaign, they are getting the whole community involved in demanding a full Environmental Impact Review that protects people over corporate profit.
This onslaught of mining threats is no coincidence; it's the result of U.S. policy proposals to fast-track new mining for so-called "critical minerals." For decades the mining industry has pushed a false scarcity narrative: they have claimed these minerals are in short supply and necessary for national security or to fulfill clean energy objectives as a way to speed the approval of new mines and reduce regulatory oversight. Rose grantee Earthworks is tackling this narrative from a broader policy lens. The group is educating lawmakers and land managers about this false narrative. Earthworks is also proactively working to set the policy agenda for the Biden Administration and California's Congressional delegation; encouraging alternatives to new mines, such as mineral recycling and reuse; and pushing for comprehensive reform toward a more circular economy that protects communities and ecosystems from destructive mining.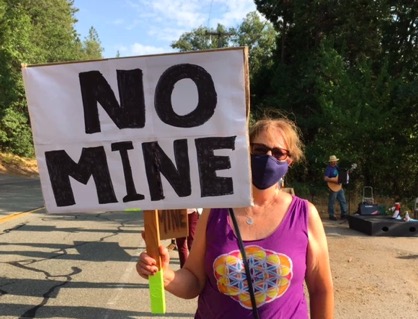 As these examples indicate, often threats or opportunities appear suddenly — a new company arrives on the scene, or a new administration takes office, and advocates must be ready to respond quickly to events on the ground. The Rose Foundation's California Wildlands Rapid Response Fund provides critical and unique support to defeat these unnecessary, extractive, and destructive projects and push for better management of California's federal public lands. The Fund's decisions are made with a fast turnaround, typically within a couple of weeks after receiving applications. Our quick turnaround enables groups to respond immediately to bad projects and take advantage of unexpected opportunities. As I watch these new mining proposals crop up across the state, I am heartened by the hard work, tenacity, and determination of California's defenders. I am grateful to be able to support their fight to protect public lands for all of us, and for generations to come.
Want to learn more about how mines harm communities and ecosystems? Check out this helpful guide from Earthworks to find out!