Each month we're featuring a member of the Rose Foundation community. We hope that through these interviews, you get to know a little more about the dynamic people that make the Rose Foundation's work possible.
Laura Fernandez joined the Rose Foundation staff in 2016, and is a program officer managing several of the Rose Foundation's grantmaking programs.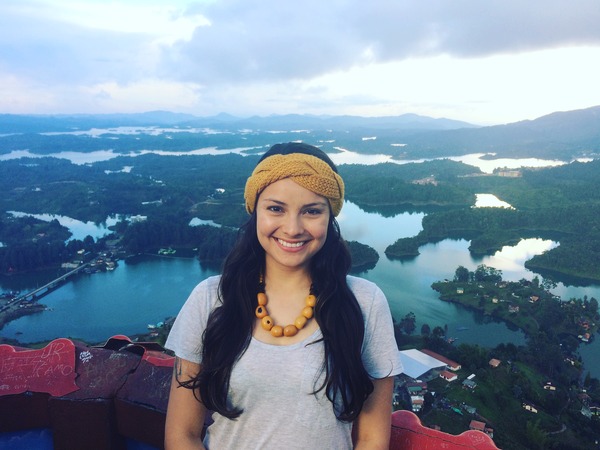 Rose Foundation program officer Laura Fernandez visits the famous town of Gautapé, in her
native Colombia, a town known for its colorful houses and an expansive nearby reservoir.
1. What brought you to the Rose Foundation? / ¿Qué te trajo a la fundación? 
 A desire to work more locally, at an organization connecting environmental justice and the grassroots. I also wanted to learn about water and California's watersheds. Finally, my belief in the power of philanthropy as a driving force to help solve some of the most pressing environmental issues.
Un deseo que traía de trabajar a escala mas local, en una organización con conexión a la justicia ambiental y a las comunidades de base. También quería aprender sobre el agua y las cuencas de California. Por ultimo, mi creencia en la filantropía como un vehículo para ayudar a resolver algunos de los problemas ambientales más urgentes.
2. What inspires you most about the Rose Foundation? / ¿Qué es lo que más te inspira de la fundación?
 The collective and individual passion of the staff, our amazing grantees, and the community around us that make our work possible.
La pasión colectiva e individual del equipo de trabajo, las increíbles organizaciones que financiamos, y la comunidad que nos rodea hacen que nuestro trabajo sea posible.
3.  What are you up to when you're not at the Rose Foundation? / ¿Qué estás haciendo cuando no estas en la fundación?
 You can find me at various soccer fields in the East Bay, hiking, or traveling to our country's national parks.
Me pueden encontrar jugando futbol en varias de las canchas del este de la bahía, de caminata, o viajando a los parques nacionales de nuestro país.
4. What is your favorite animal? / ¿Cuál es tu animal favorito?
Cliché, but I adore dogs.
Cliché, pero muero de amor por los perros.