Each month we're featuring a member of the Rose Foundation community. We hope that through these interviews, you get to know a little more about the dynamic people who make the Rose Foundation's work possible.
Marybelle Nzegwu has served on our Northern California Environmental Grassroots Fund funding board since 2015, and we were excited to welcome her onto the Rose Foundation board of directors earlier this year. After graduating from UC Hastings College of the Law, Marybelle began her legal career at the Center on Race, Poverty & the Environment. In 2017 she founded her own consulting firm, Environmental Justice Solutions.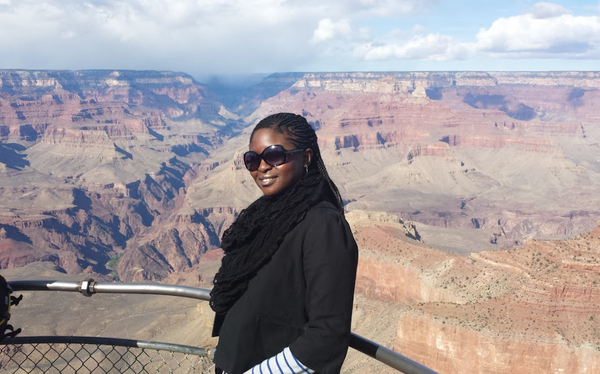 Marybelle takes in the spectacular views of the Grand Canyon. Serving on the funding board of our Northern California Environmental Grassroots Fund and our board of directors, Marybelle brings her extensive experience as an advocate for environmental justice to the Rose Foundation.
1. What brought you to the Rose Foundation?
I first encountered the Rose Foundation through the passionate and moving advocacy delivered by 
New Voices
 youth. I wanted to work with the adults who were inspiring young people and help them gain knowledge and experience in local environmental campaigns. 
2. What inspires you most about the Rose Foundation?
I'm deeply inspired by the fact that Rose enables so many positive changes that would not otherwise be possible. The foundation did not start with an endowment and raises most of the money it awards to grassroots community organizations that have tiny budgets and few other funding sources.
3.  What are you up to when you're not working with the Rose Foundation?
In my spare time, I do a lot of creative writing: music, poetry, short stories. I can also be found reading a good book, taking long walks and hikes, or dancing until I drop.
 
4. What is your favorite animal?
Giraffes capture my fancy. Their long necks and distinct markings are truly beautiful. They also have lethal kicking skills and can outrun some of the fiercest predators, including lions.