New Voices Are Rising seeks to increase civic participation within under-represented communities, increase young people's commitment to environmental justice, and reduce air and water pollution that severely impact both human health and the health of the San Francisco Bay. The program helps young people gain the skills and experience in civic engagement that they need to begin to tackle the problems — including environmental health problems — that disproportionately impact their communities.
Thank You for Building Youth Power for Climate Justice with New Voices Are Rising!

Thanks to an outpouring of support from donors, the "Crowdfund" fundraising campaign met our goal! Thanks to your contributions — big and small — we raised $25,000 to support our virtual 2021 Summer Climate Justice Leadership Academy!

Didn't get a chance to donate?
Or, inspired to give an extra gift?

You can donate to New Voices Are Rising all year round on our donate page!
The Summer Climate Justice Leadership Academy (Summer Academy) is a six-week long program where high school-aged youth take a deep dive into local environmental justice issues, building their leadership, advocacy, and organizing skills along the way.
This summer, we have expanded the academy to include 30 youth from frontline communities across the Bay Area. This expansion has been a major dream of New Voices supporters, students, and program staff for years. And we are so thrilled that this year, we are making that dream a reality!
Learn more about the Summer Academy and the expansion.
Two to four students from the Summer Institute are recruited to become New Voices Are Rising Fellows during the school year, giving them the opportunity to pursue environmental justice work in greater depth. The students use the skills they learned and the leadership potential they developed, applying it to community capacity building and outreach projects with New Voices and program partners focused on reducing toxic exposure, addressing climate change, and increasing competency in low-income communities and communities of color to meaningfully engage in environmental decision-making.
What's New with New Voices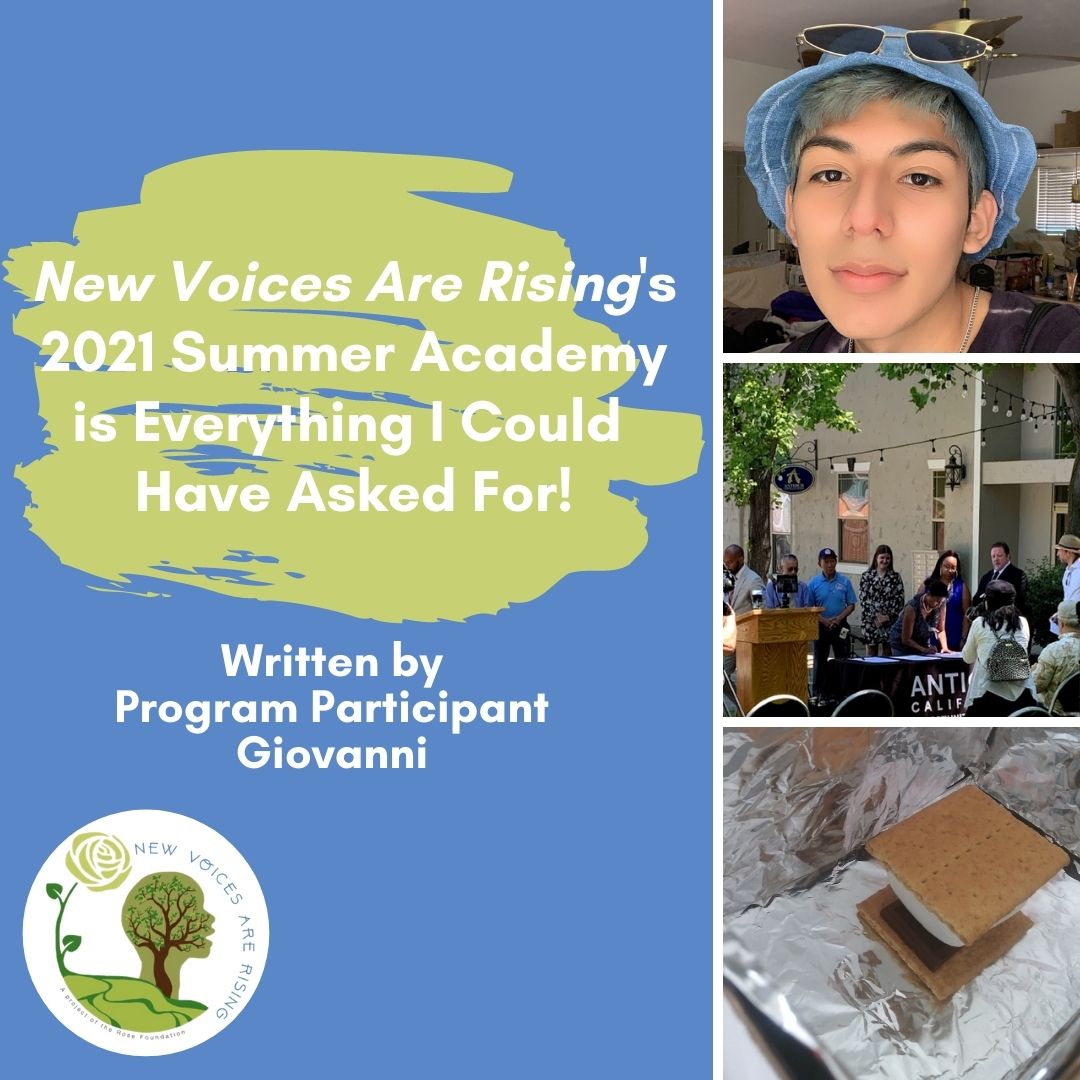 Just a few weeks into the New Voices' 2021 Summer Academy, Giovanni gives us an update. There's been fun, friends, and photo-ops! Keep reading to find out why this summer has been such an eye-opening, informative, and welcoming experience!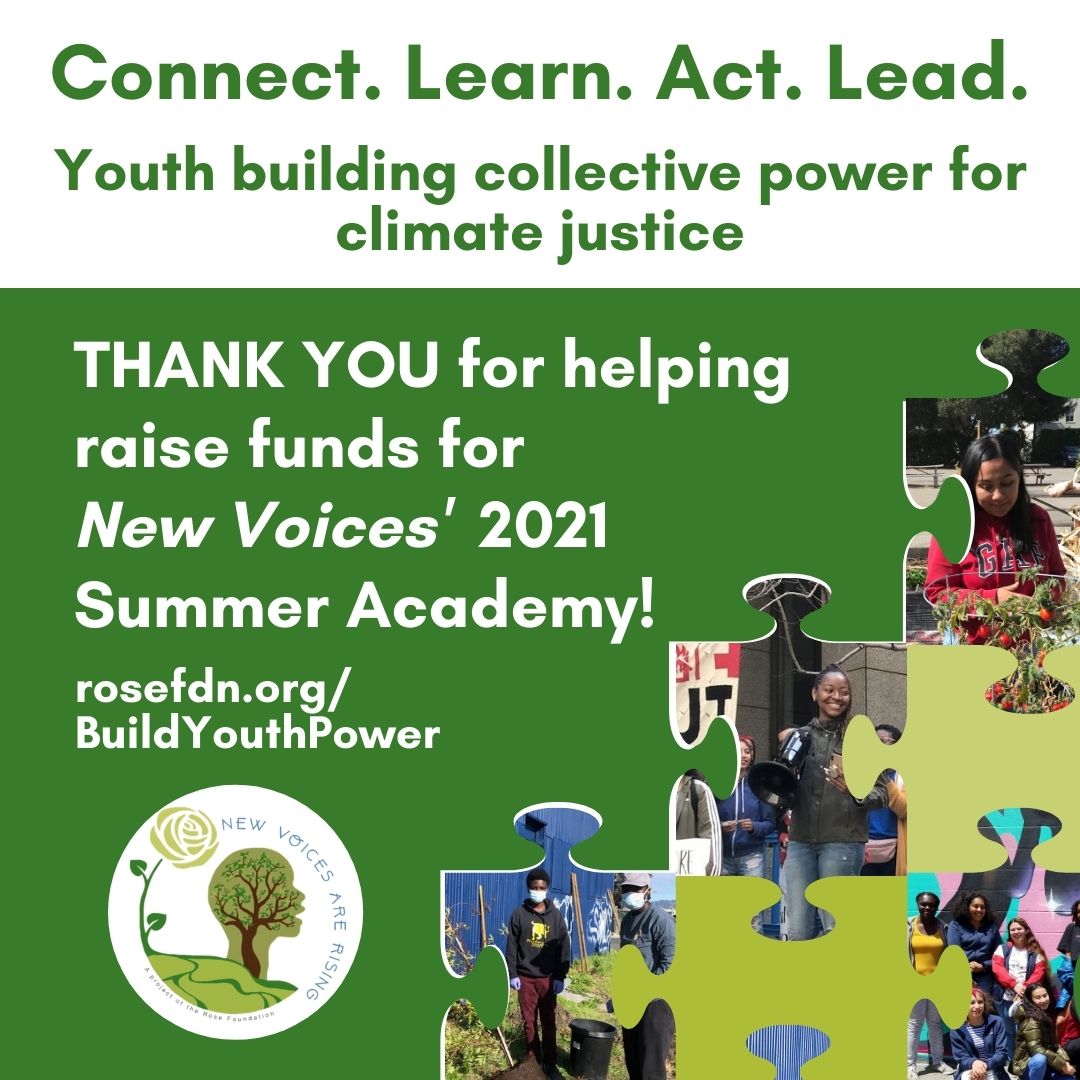 We met our goal! Our New Voices Are Rising "Crowdfund" fundraising campaign raised $25,000 for the virtual 2021 Summer Academy! Thank you for joining New Voices in building youth power for a climate just future!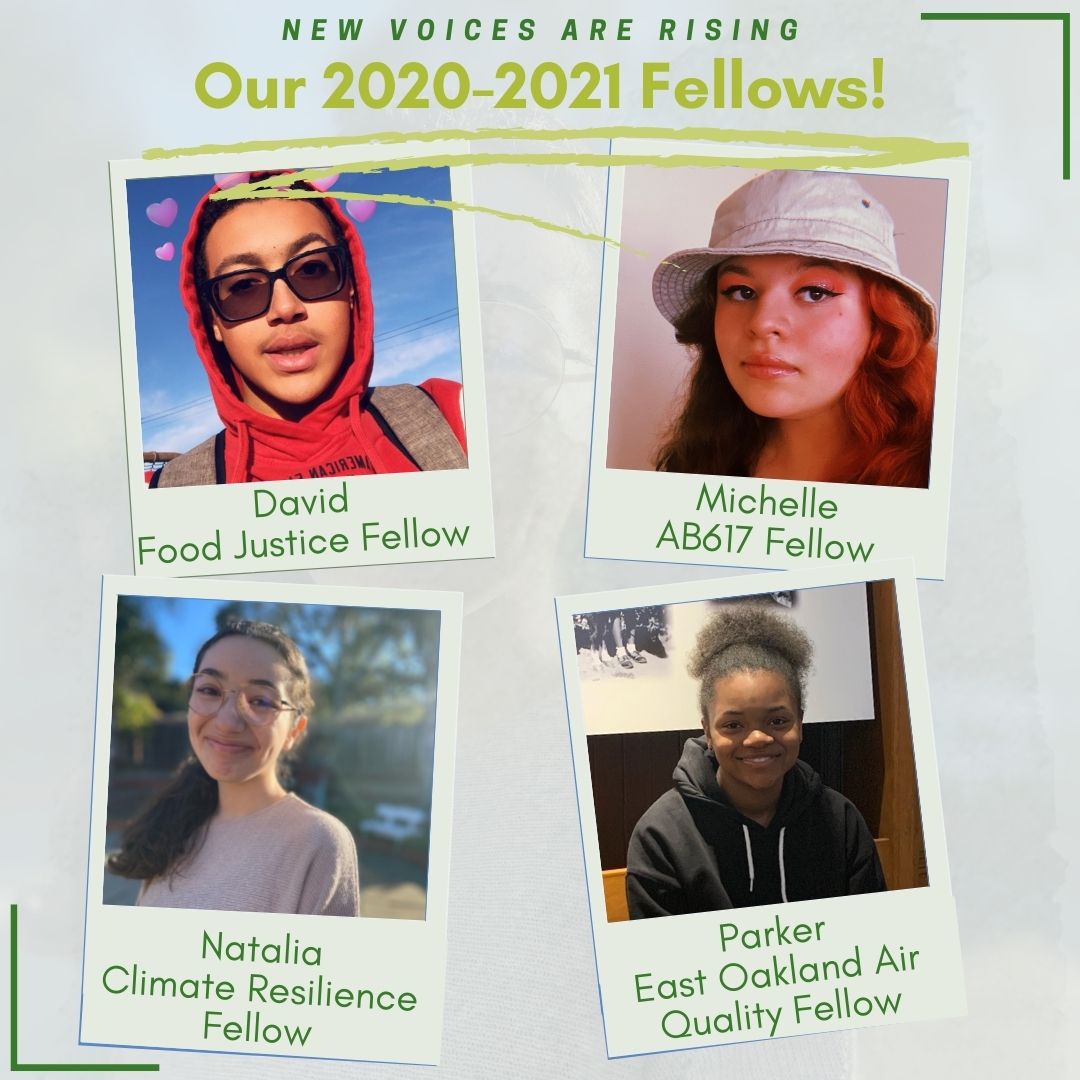 As we head into the summer, New Voices is saying goodbye to our Fellows and getting ready for this year's virtual Summer Academy. Find out what our Fellows are up to this summer and beyond, plus learn how we are gearing up for the start of the Summer Academy!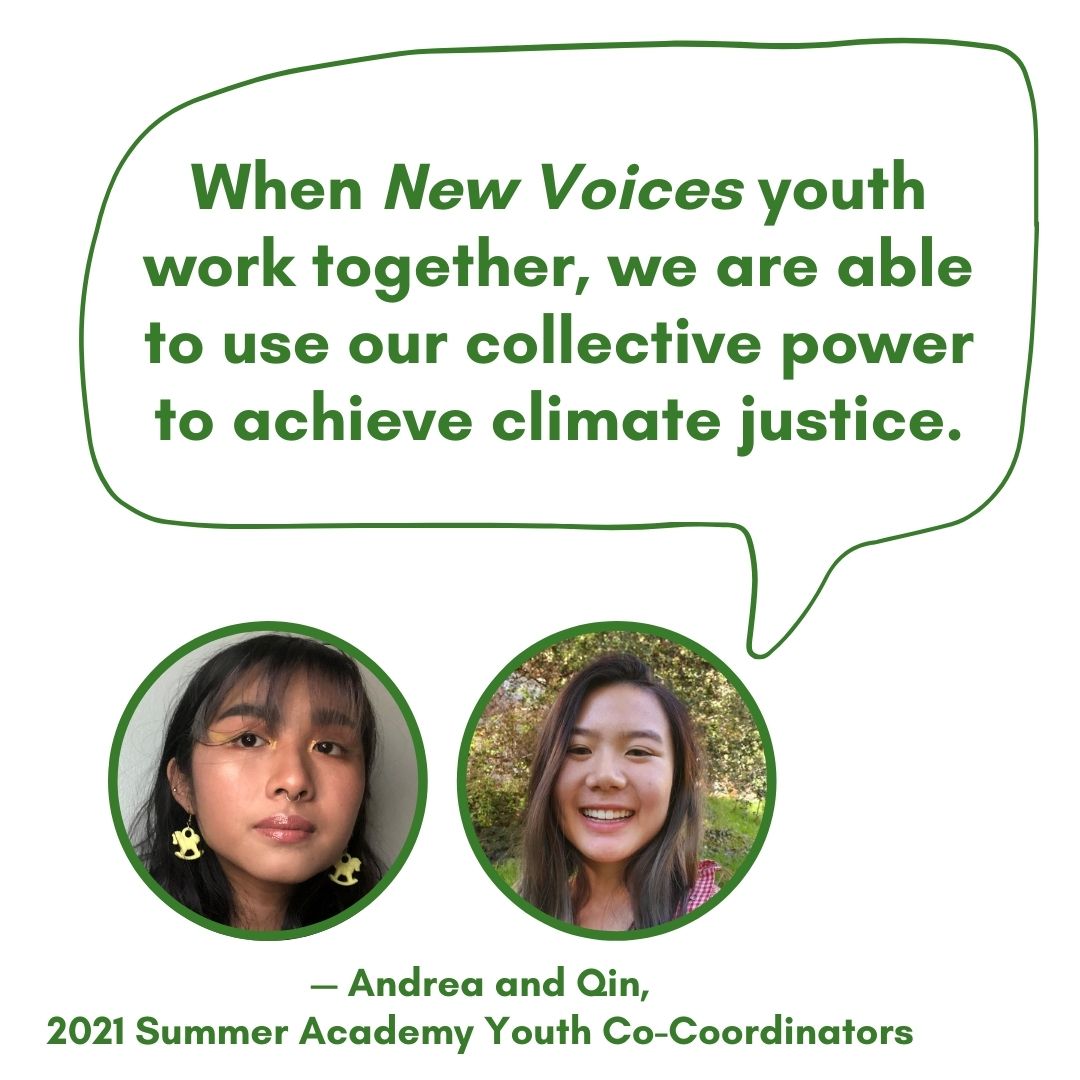 Andrea and Qin here, this year's Summer Academy Youth Co-Coordinators. New Voices helped us find our voices, and this summer, we get to help new students in the Summer Academy find theirs.
Find out how you can help us make this year's Summer Academy a success!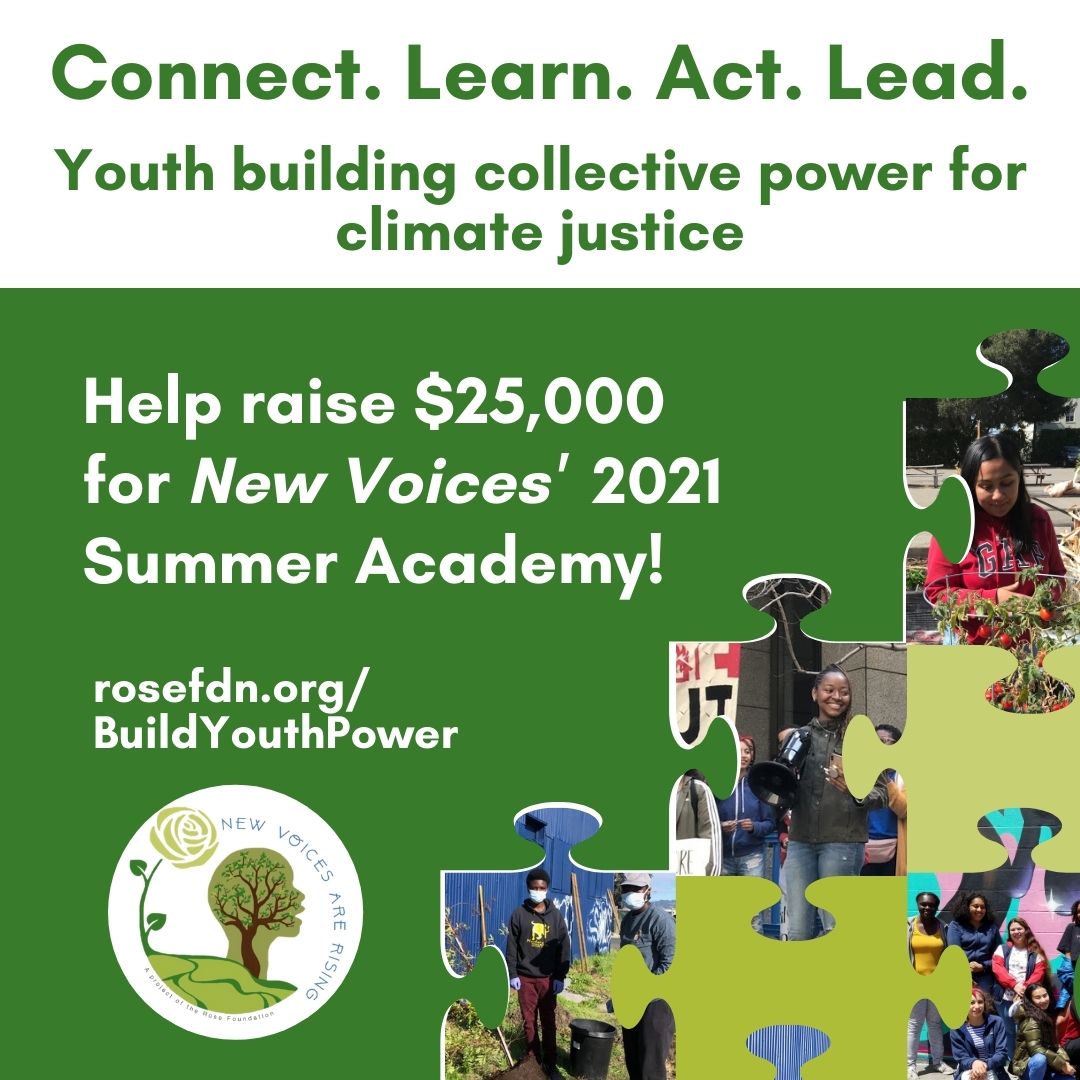 Our New Voices Crowdfund just launched! Help raise $25,000 for New Voices' virtual 2021 Summer Climate Justice Leadership Academy. Join the Crowdfund and support young environmental leaders today!
Thank you to our agency and foundation supporters:

Austin and Lauren Fite Foundation
Bay Area Air Quality Management District
California Air Resources Board
California Environmental Protection Agency
Department of Pesticide Regulation
Department of Toxic Substances Control
East Bay Municipal Utilities District

Landray/MacLane Fund at the East Bay Community Foundation
Metropolitan Transportation Commission